Die achte Kooperation zwischen COS und der Kunst- und Architekturwelt. Die Zusammenarbeiten des Modelabels mit geschätzten Künstlern bedeuten immer etwas ganz Außergewöhnliches. Sie sind besonders. Ein wahrliches Highlight der Salone del Mobile. In raumumfassenden Installationen zeigten bereits Studio Swine und PHILLIP K. SMITH III während der Mailänder Designwoche – in diesem Jahr entschied sich COS für den Architekten ARTHUR MAMOU-MANI.

'CONIFERA' – so der Name der Installation – wurde digital entworfen, anschließend mit einem 3D-Drucker geprintet und zusammengesteckt. Die finale architektonische Plastik im Palazzo Isimbardi besteht aus 700 Bausteinen – allesamt gefertigt aus einer Mischung aus Holz- und Bio-Plastik (sogenannte "bio-bricks"), die jedoch keineswegs hart wirken. Dank der feinen Struktur und des transparent-lichtdurchlässigen Materials zeigt sich die Plastik organisch-leicht. 'CONIFERA' ist eine klare Zukunftsvision. Ein Dialog zwischen neuen Materialien und Technologien. Aber auch frischen Designansätzen. Mamou-Mani dazu selbst:
"Die Installation soll den Kreislauf des kompostierbaren Materials abbilden. Ich wollte eine Reise von der Architektur zur Natur schaffen, um zu zeigen, dass wir mit erneuerbaren Materialien in Kombination mit Algorithmen und einem dezentralen 3D-Druck, die Bausteine der Zukunft schaffen können."
Dies kann der Betrachter der Arbeit selbst erfahren: Die strukturelle Form zieht sich vom Innenhof des Palazzo in den dahinter gelegenen offenen Gartenbereich. Entlang dieses Weges entwickelt sich 'CONIFERA' in ihrer Darstellung: Die warmen Töne nehmen ab und ein transluzentes Weiß wird im Garten vorherrschend. 'CONIFERA' schafft so eine Verbindung der Architektur zur Natur. Ist aber ebenso von Kontrasten geprägt. Von der Monumentalität des Renaissancebaus und der Filigranität der Gitterstruktur, ebenso von moderner Technologie und klassischem Handwerk. Sie zeigt die Möglichkeiten von nachhaltigen Materialien und wie sich diese mit moderner Designtechnologie verbinden lassen.
Dress by COS
Oval Hoop Earrings by COS
It's the eighth collaboration between COS and the art & architecture scene. The London-based fashion label is known for its timeless collections and minimalistic appoach. Since the launch of the brand in 2007, COS has drawn a lot of its inspiration from art and design. To honor this inspiration, the brand is commissioning artists and designers since 2012 for Salone del Mobile – such as the American artist PHILLIP K. SMITH III and the multi-disciplinary Studio Swine.
This year, COS partnered with architect ARTHUR MAMOU-MANI and his studio. They created 'CONIFERA', a half-transparent installation made from 3D-printed bioplastic bricks – designed and created through an open-source software. Each brick is fully compostable and consists of material from renewable biological resources – some are translucent and white, some are in a brownish color (coming from wood pulp). They don't appear hard or too heavy. Because of its transparent and light-flooded soft materials, the structure seems organic and light. 'CONIFERA' positions itself as a future vision. It is a dialog between new materials and technologies. But it's also about new design approaches. The structural form is flowing through the courtyard of the Palazzo Isimbardi into the gardens in the backyard. Along this way, 'CONIFERA' is evolving in its figure – the warm tones from the objects in the Palazzo are decreasing into a translucent white in the garden. The installation creates a connection between architecture and nature. But is also shaped out of contrasts – from the monumentality of the old Renaissance building and the filigree character of the grid-structure, alike modern technology and traditional craftsmanship. 'CONIFERA' looks to the future. It shows possible ways to work with sustainable materials and how those can be connected with modern design technologies.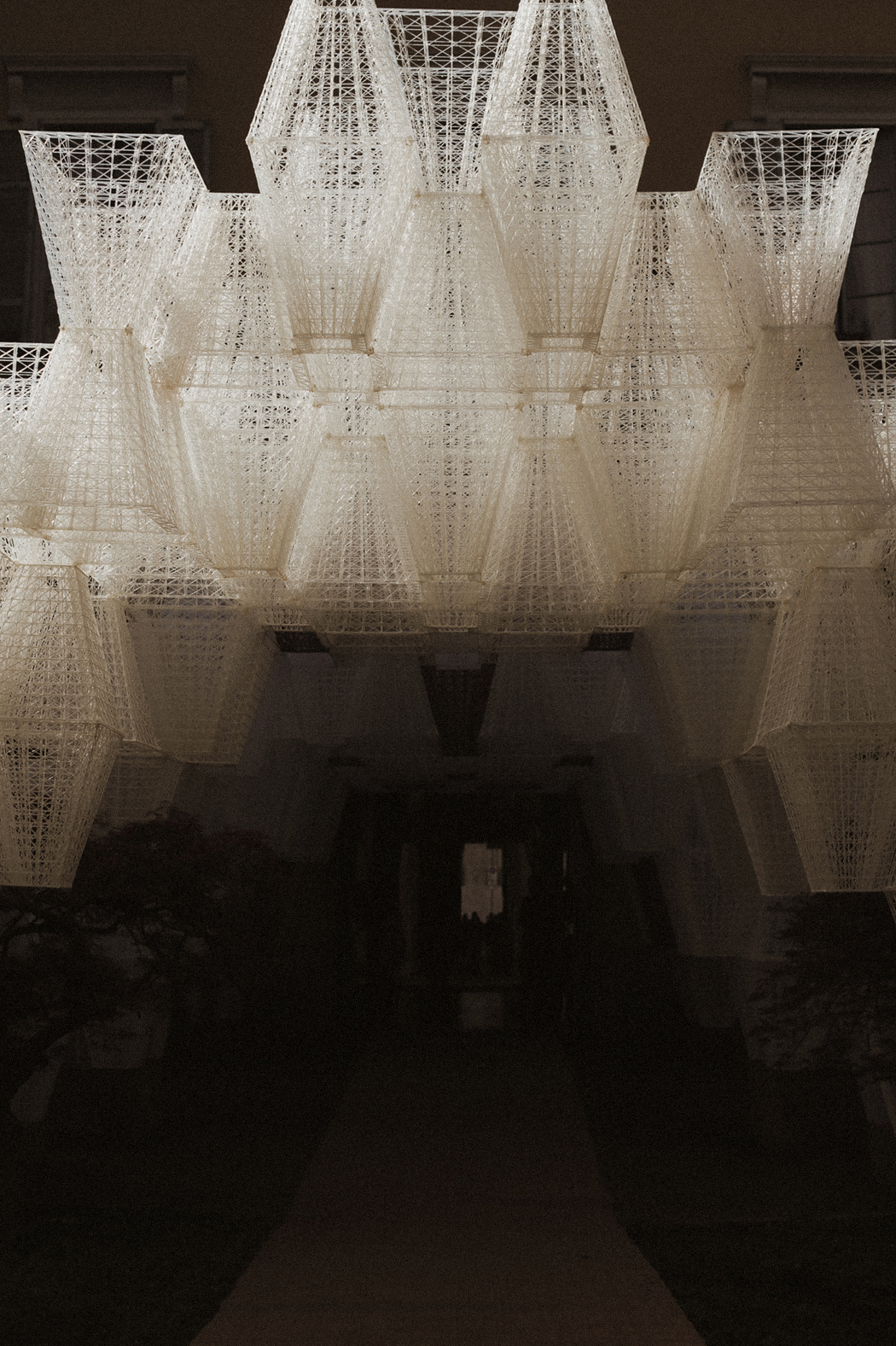 ANZEIGE
Dieser Beitrag enthält Affiliate Links & gesponserte Produkte.