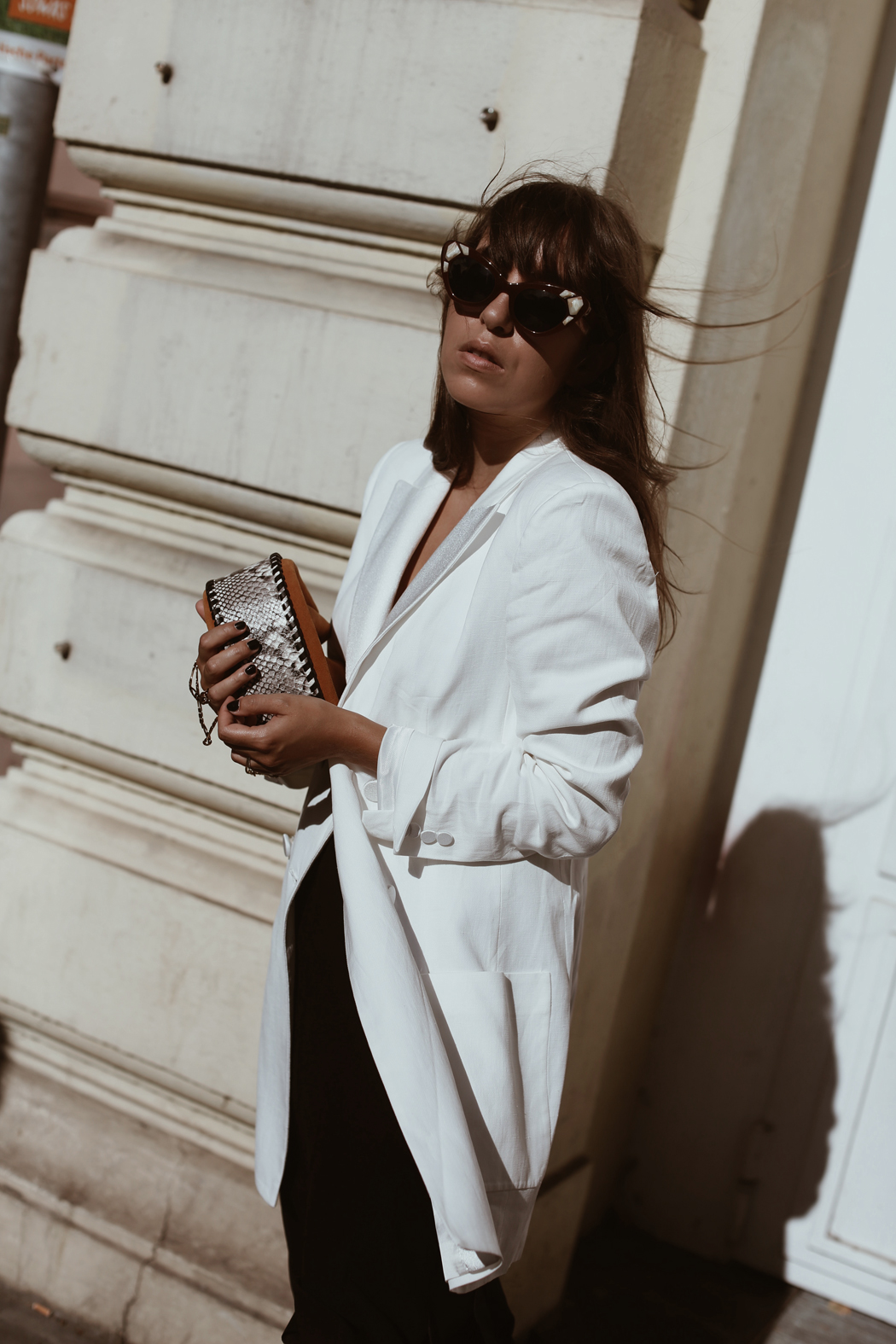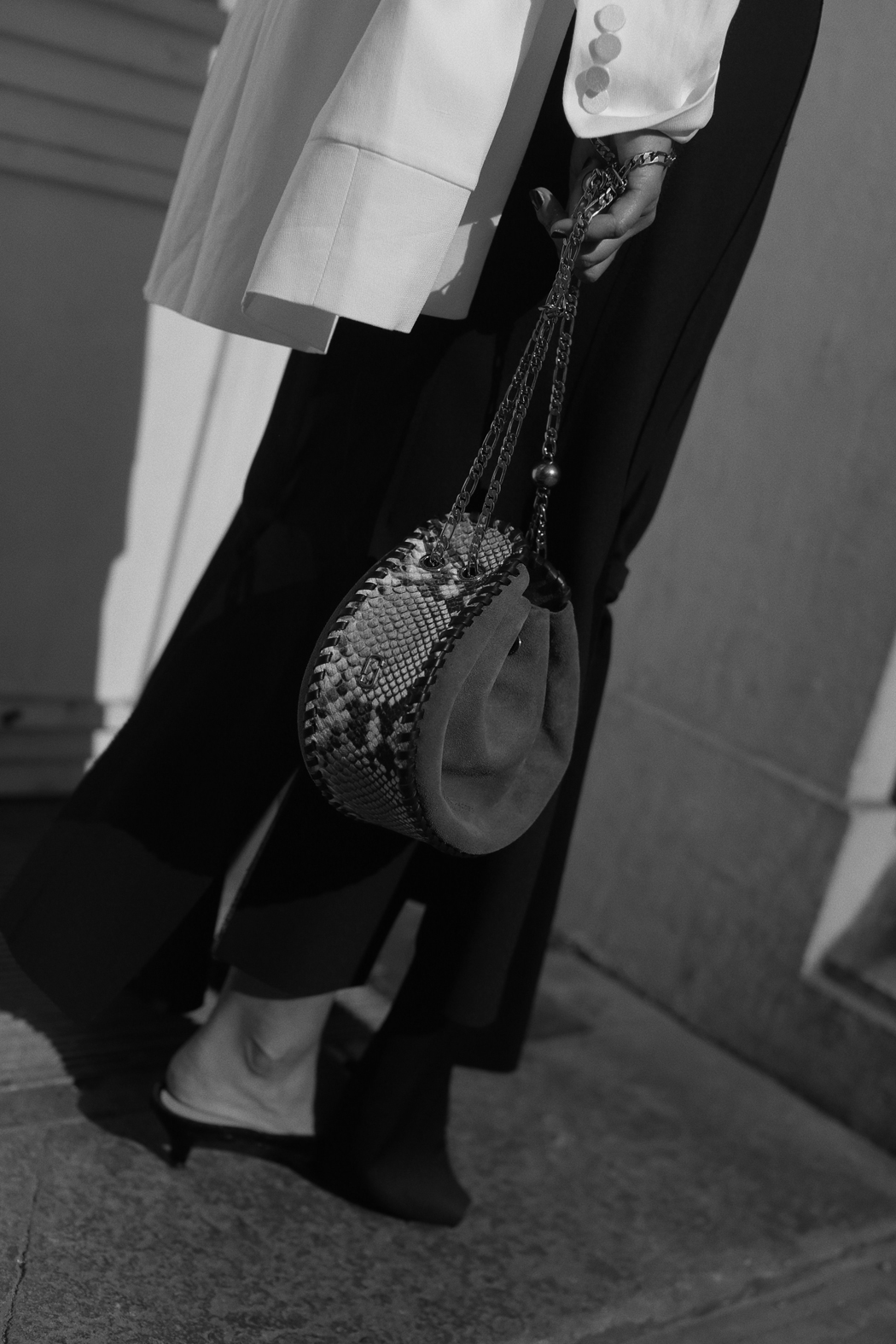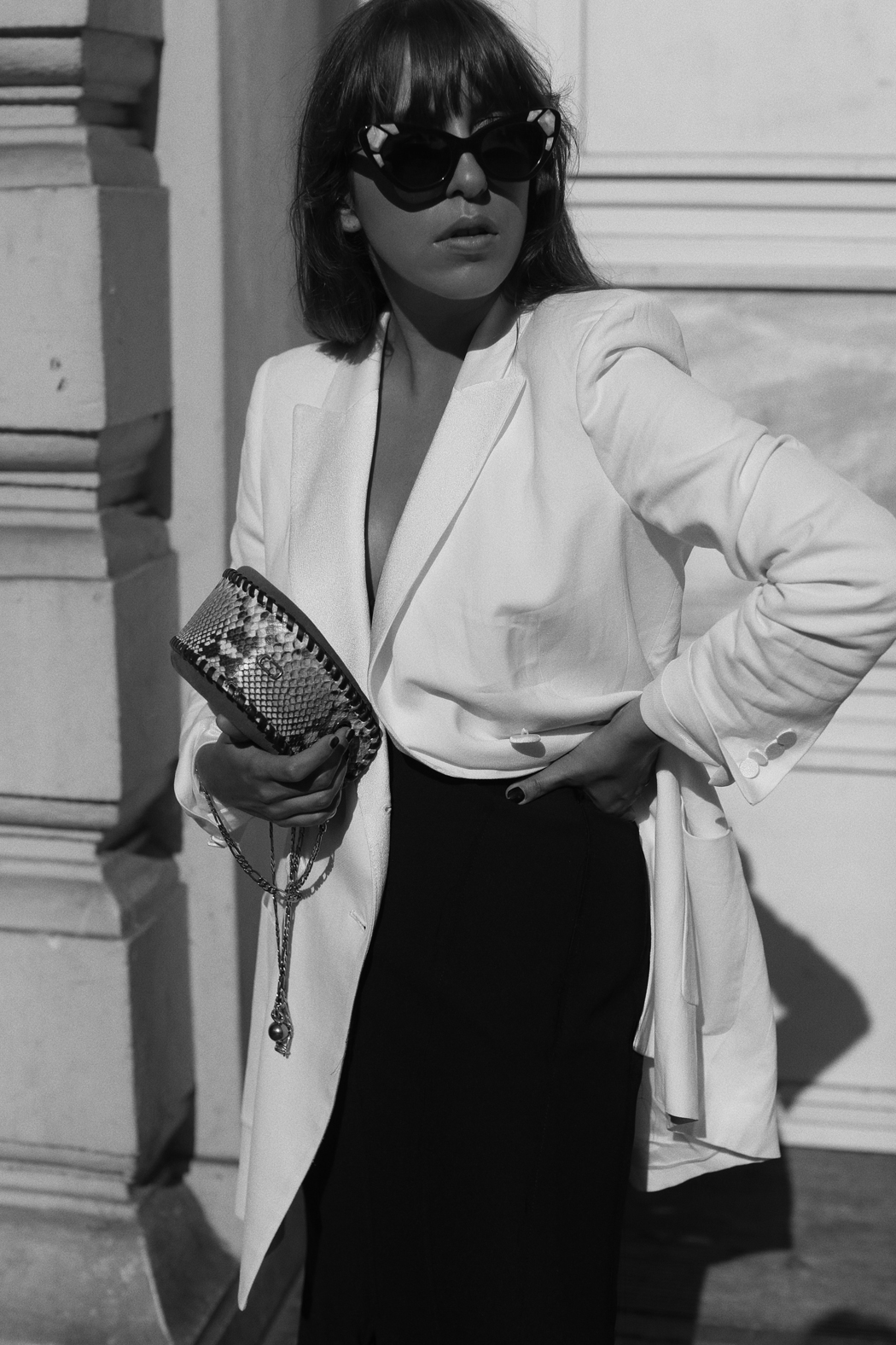 Blazer ZARA (no longer available) similar AVAILABLE HERE | Skirt REJINA PYO c/o STYLEBOP | Pumps ZARA (similar AVAILABLE HERE) | Bag MARC JACOBS c/o STYLEBOP | Sunglasses c/o KALEOS (AVAILABLE HERE)
Keeping it classy! Irgendwie könnte das mein Motto sein. Oftmals erwische ich mich dabei, wie ich  immer wieder ähnliche Schnitte und Formen, ähnliche Teile und Looks trage – ganz abgesehen, von meinem immer wiederkehrendem Farbschema. Ob das langweilig ist? Ich weiß es nicht. Wahrscheinlich habe ich einfach meinen Stil gefunden. Ich hoffe es zumindest. Ein Oversized-Blazer geht ja sowieso immer. In dem Fall ein zurückhaltendes Teil, das dem Rock von REJINA PYO – definitiv das Key Piece des Looks – die komplette Bühne überlässt: je nach Windeinfall und Blickwinkel wird der Rock vom klassischen Midi-Skirt zu einem Teil mit besonderen Details. Ab dem Oberschenkel teilt er sich in verschiedene Bahnen – quasi ein Rock mit Schlitz, nur die Overkill-Version. Um den klassischen Look noch etwas mehr zu brechen, trage ich dazu eine etwas auffälligere Wildledertasche von MARC JACOBS (wie genial ist bitte die Kette?) und eine Cat-Eye Sonnenbrille von KALEOS.
ENG // Keeping it classy – sometimes I think this could be my mantra – I always catch myself by wearing similar pieces and styles, but I think THAT IS my style: a mix of classic looks with a twist. This time I wore a white oversized blazer, a black skirt by REJINA PYO (those fringe details are perfect) and a suede bag by MARC JACOBS (can we just stop and talk about that chain strap?). 

[show_shopthepost_widget id="2809856″]