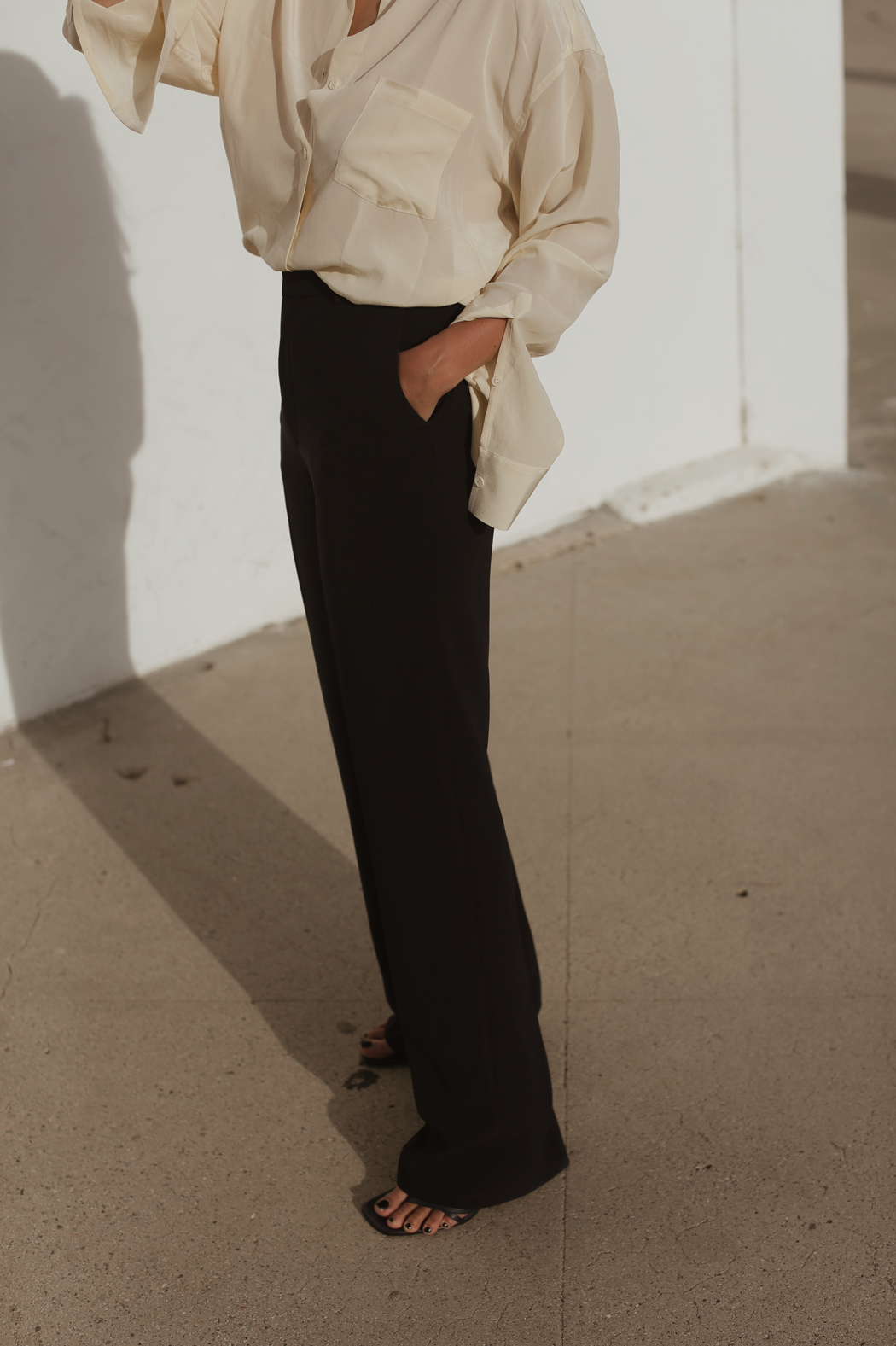 Blouse FILIPPA K
Pants FILIPPA K
Der Vibe von L.A. – welches Outfit könnte die entspannte Atmosphäre von Los Angeles besser widerspiegeln, als ein relaxter Look aus leichten Materialien und einfachen Schnitten? Gerade auf Reisen mag ich es unkompliziert: Meine Looks müssen untereinander kombinierbar sein und sich bestenfalls sowohl schick als auch alltagstauglich miteinander verbinden lassen. Schließlich möchte ich auch unterwegs keine Abstriche machen.
FILIPPA K ist nun schon seit einigen Jahren eine meiner liebsten Anlaufstellen für zeitlose und klassische Designs. Schnitte, Verarbeitung und die Stoffe haben mich jedes Mal überzeugt. Gerade die weißen Hemden mag ich sehr. Hier wähle ich auch oftmals eine Nummer größer, damit sie einen perfekten, lockeren Sitz haben.
In Los Angeles trug ich die HUTTON PANTS, jeweils kombiniert mit dem TONI SILK SHIRT oder dem weißen JANE SHIRT und dem RIB SINGLET.
The vibe of L.A. – the best pieces to reflect the atmosphere of the laid-back city are looks made out of soft materials and simple cuts. Especially when it comes to traveling, I like my outfits to be uncomplicated and versatile. Ideally they go as a simple daytime look but also as a chic version for the evening. And it makes packing for a trip even easier.
For some years, FILIPPA K is one of my go to brands for classic and timeless styles. The perfect simple designs, paired with the softest and best materials like silk and organic cotton – FILIPPA K is truly a good place to look for minimalistic pieces. What I wore in Los Angeles: the black HUTTON PANTS, the nude TONI SILK SHIRT, the white JANE SHIRT and the RIB SINGLET.
[show_shopthepost_widget id="3600955″]