Mosses and succulents, blackberries, blue pimpernel, ivy – this is just a small glimpse into the plant selection LINDA TEGG uses for 'Adjacent Field', a site specific installation. Sourced and plucked from abandoned places around and in Milan by the artist herself, the work features different kinds of plants that surround us every day. The project was conceived with Lucie and Luke Meier from JIL SANDER, shown inside the Milan headquarters of the fashion house during Milan Design Week 2019. It supports also Jil Sander+, a new series of seasonal collections, desigend for a life outside of the city.
'Adjacent Field' – an opulent and ephemeral version of the 'nearby field' shows plants, that are not extremely special, remarkable or of any economic value. But they exist alongside us. Every day. Linda Tegg puts those plants in the center of our lives. The living arrangement is supported by a light installation by Nic Burnham.
Most of the plants have been returned to their original habitat after the end of the exhibition. Some will be repurposed to form a permanet modular garden to the Jil Sander offices, to bring a touch of outdoors to the spaces – a literal ecosystem as a reminder for the uncared flora of the city and the nature itself.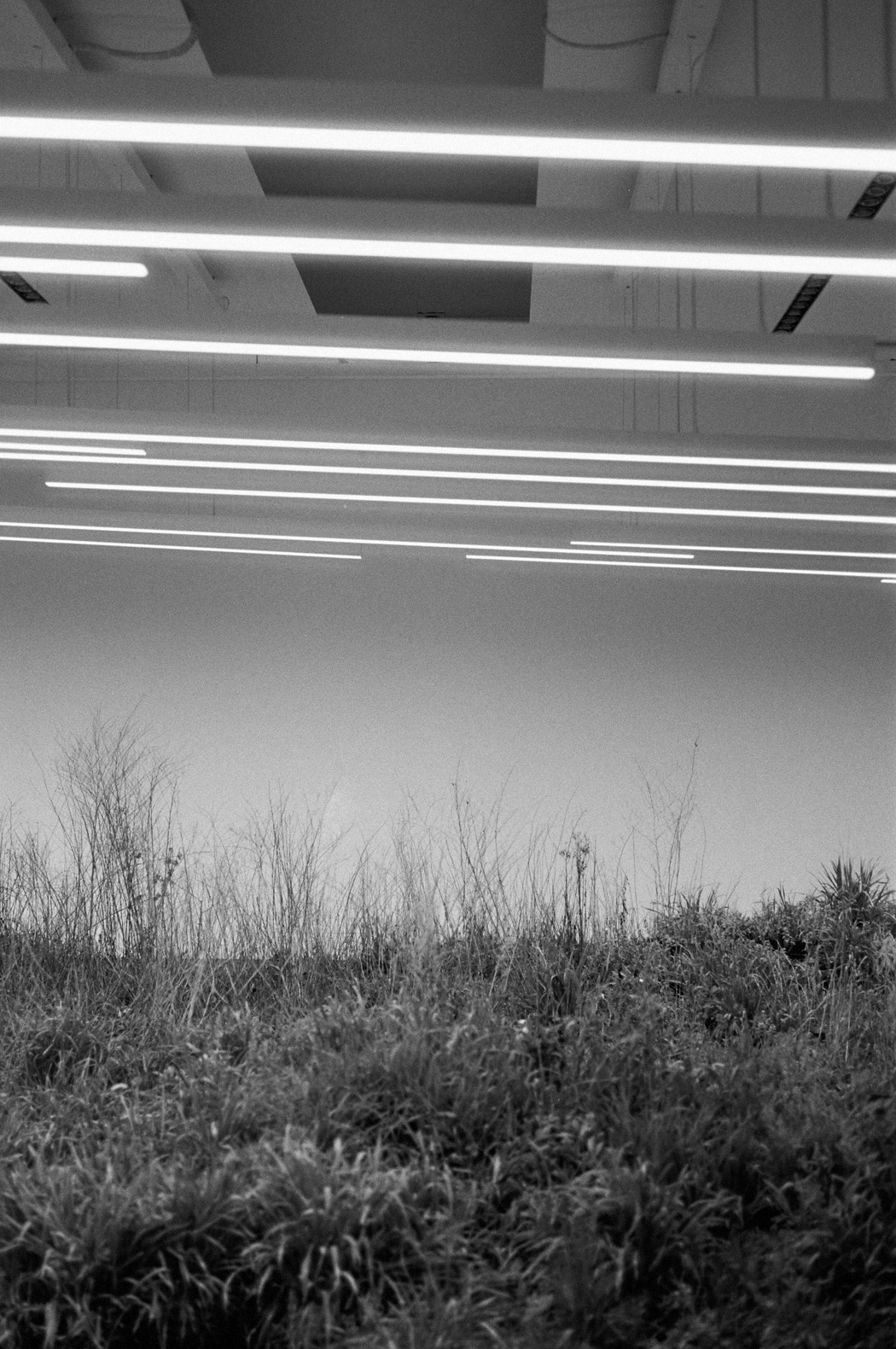 ADJACENT FIELD
By Linda Tegg
Jil Sander Headquarter, 2019
Moose und Fettpflanzen, Brombeeren, blauer Gauchheil, Efeu – dies ist nur ein kleiner Einblick in die Pflanzenauswahl, die Künstlerin LINDA TEGG an verschiedenen Orten Mailands für ihre Arbeit sammelte. Sie bilden die Hauptelemente von 'Adjacent Field' – einer raumumfassenden Installation mit wildwachsenden Pflanzen, die sie zusammen mit Lucie Und Luke Meier konzipierte. Gezeigt wurde die Arbeit während der Milan Design Week 2019 im JIL SANDER-Hauptquartier. Sie bildete gleichzeitig den Rahmen für die Präsentation der neuen Reihe von Jil Sander+ Kollektionen.
'Adjacent Field', eine üppige und 'epherme' Version des nahegelegenen Felds zeigt Pflanzen, die weder besonders noch irgendwie spektakulär sind. Sie besitzen keinen wirtschaftlichen Wert. Existieren neben uns, jeden Tag und überall – und werden jedoch oftmals nicht wahrgenommen. Linda Tegg stellt sie in ihrer Arbeit bewusst in den Mittelpunkt unseres Lebens. Begleitet wurde das Arrangement mit einer Lichtinstallation von Nic Burnham.
Nach der Ausstellung wurden einige der Pflanzen wieder zurück zu ihrem Ursprungsort gebracht. Andere fanden ihren Platz in einer permanenten Komposition in den Jil Sander-Studios – als Erinnerung an die spontane und unbeachtete Stadtflora Mailands. Aber auch als Erinnerung an die Natur, an Kontraste und Achtsamkeit.