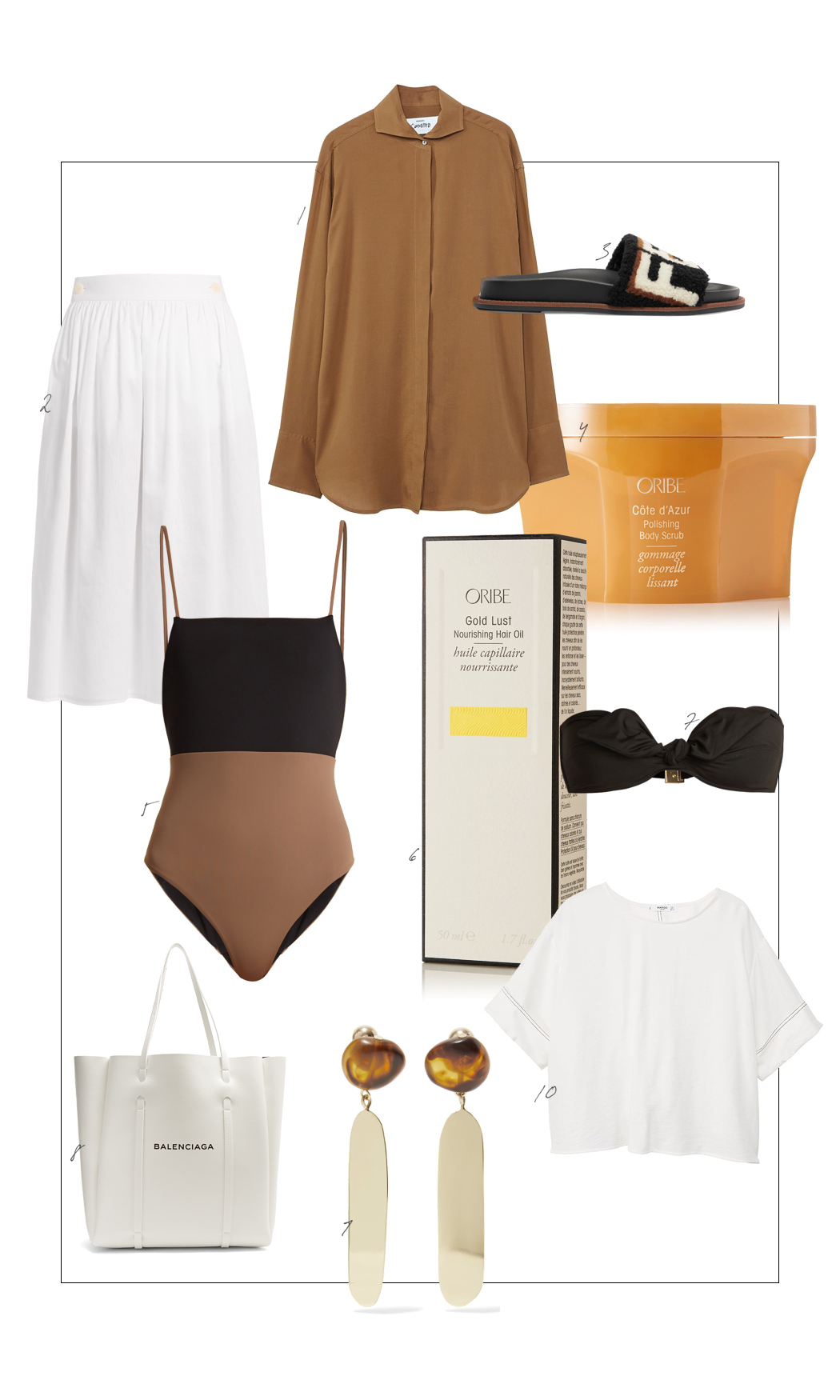 1 BROWN BLOUSE | 2 SIDE BUTTON COTTON SKIRT | 3 LOGO PRINTED SHEARLING SLIDES | 4 POLISHING BODY SCRUB | 5 TWO TONE BATHING SUIT | 6 NOURISHING HAIR OIL | 7 TWO TONE BATHING SUIT | 6 TIE-FRONT BANDEAU BIKINI TOP | 8 SIMPLE LEATHER TOTE | 9 OVAL GOLD FILLED RESIN EARRINGS | 10 BOXY WHITE BLOUSE
Inspiriert von meiner letzten Reise nach Bangkok, fallen die heutigen Sunday Arrivals mal wieder etwas sommerlicher aus – auch wenn bei uns mittlerweile der Winter angekommen ist. Aber vielleicht plant ihr ja gerade auch ein Trip ins Warme? Wäre auf jeden Fall nicht die schlechteste Idee. Eine passende Auswahl gibt es schonmal: MANGO hat mal wieder eine COMMITTED Kollektion auf den Markt gebracht: auch wenn mal wieder jedes Teil (die Linie ist meine liebste bei MANGO) in meinen Warenkorb landen könnte, ist die braune Bluse doch mein Favorit. Zusammen mit dem Rock von LOUP CHARMANT, den Slides von FENDI (sorry, aber ich glaube die brauche ich wirklich) und der Tasche von BALENCIAGA entsteht ein perfekter Vacation-Vibes Look – alles bitte einmal zu mir. Welche Teile sind eure Favoriten? Alle SUNDAY ARRIVALS gibt es hier auf einem Blick – mehr kuratiertes Shopping gibt es wie immer auch bei PINTEREST.
ENG // A look inspired by my latest trip to Thailand – which piece could be more perfect for a trip like this, than a easy-breezy blouse? My current fave: this style by MANGO. Which I'd like to wear with this cotton skirt by LOUP CHARMANT, those FENDI slides (love them – think I need them in my life!) and a bag by BALENCIAGA. Which piece is your fave this week?  
Click here for all SUNDAY ARRIVALS. See more favorites also on PINTEREST.