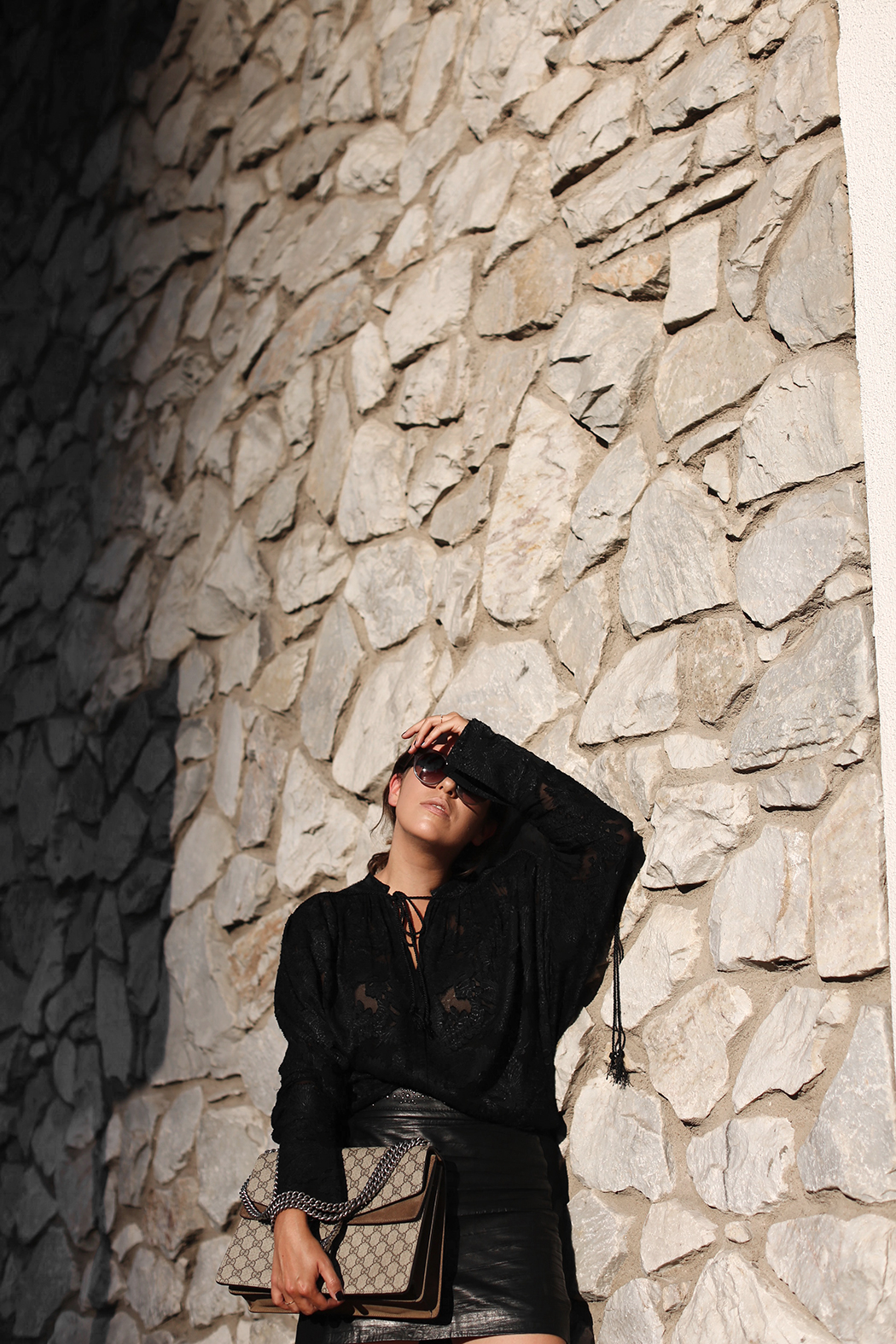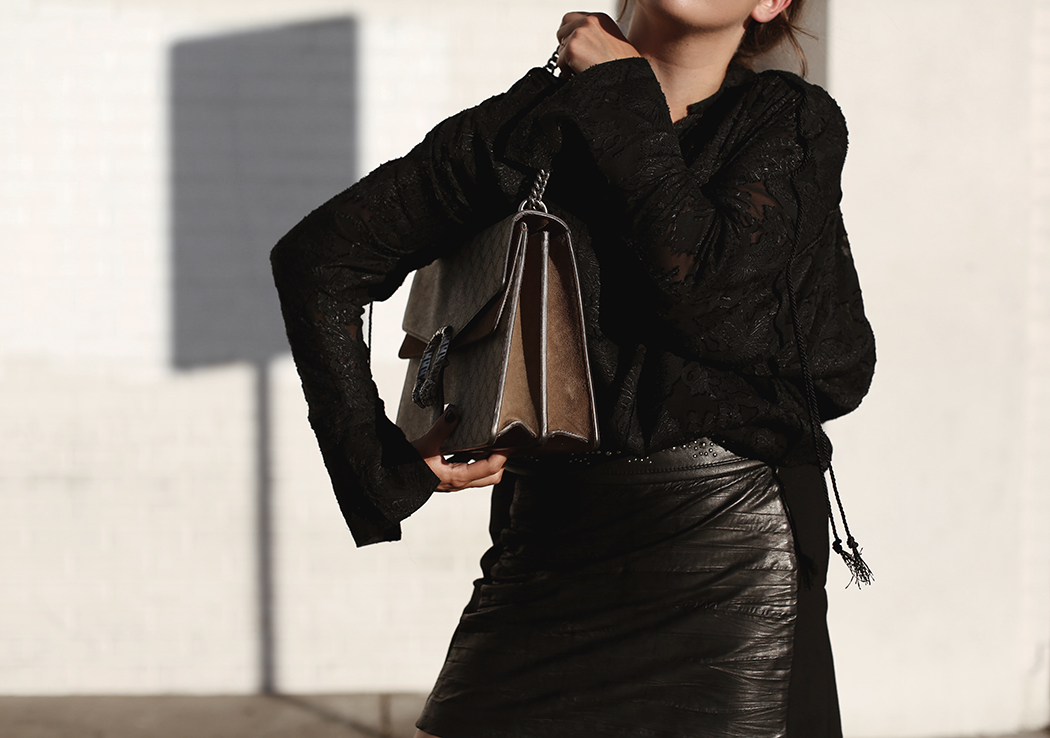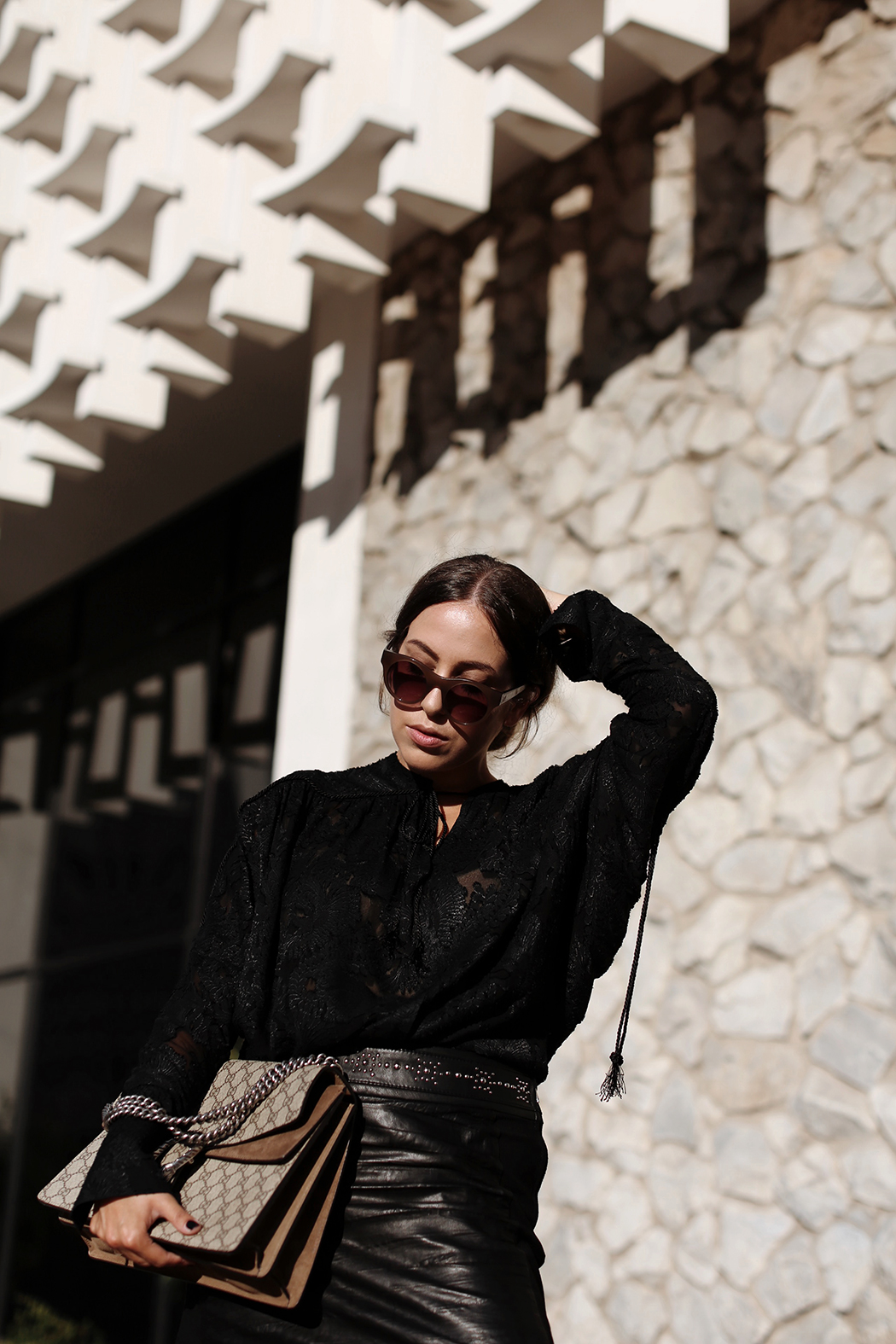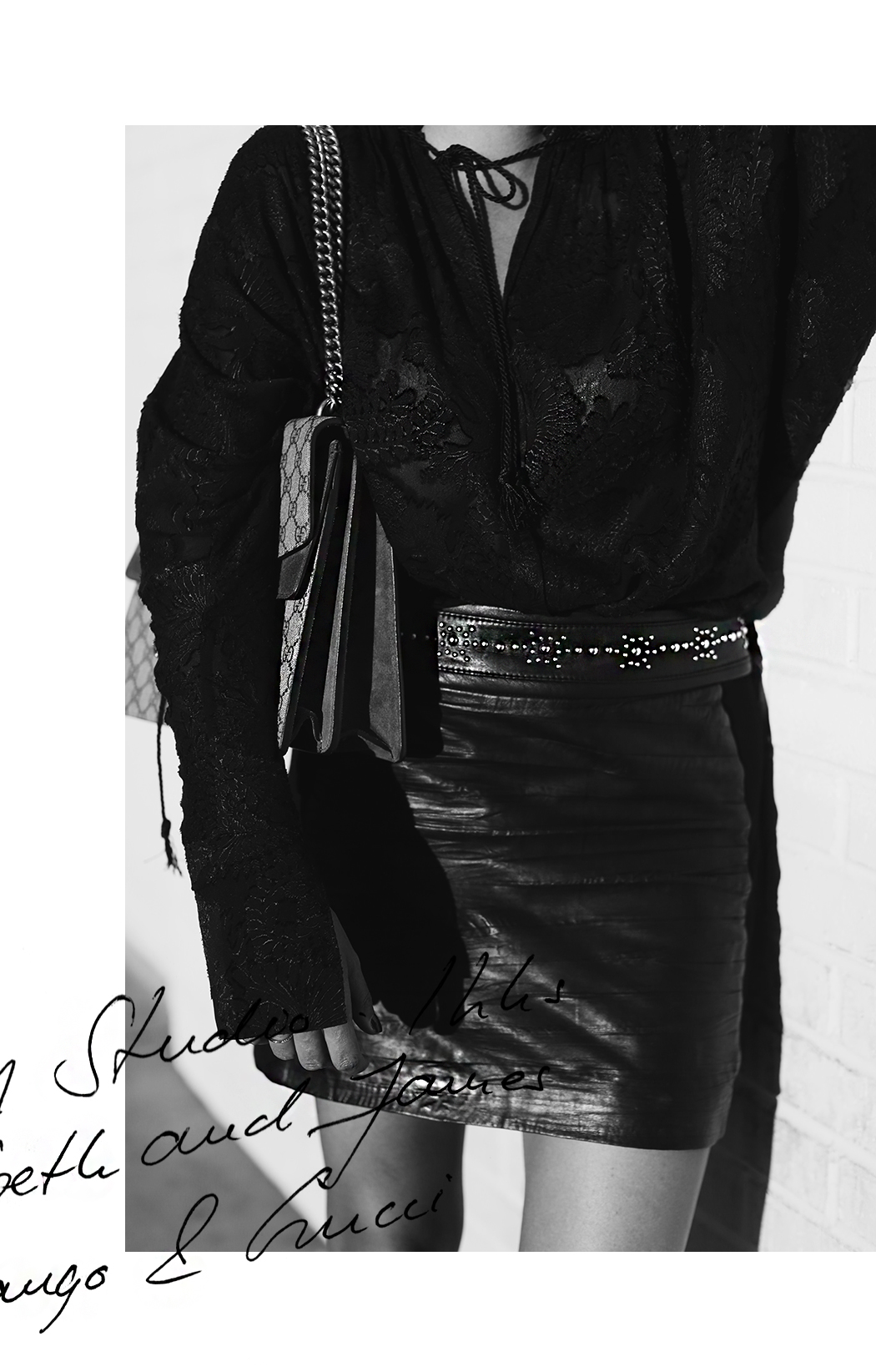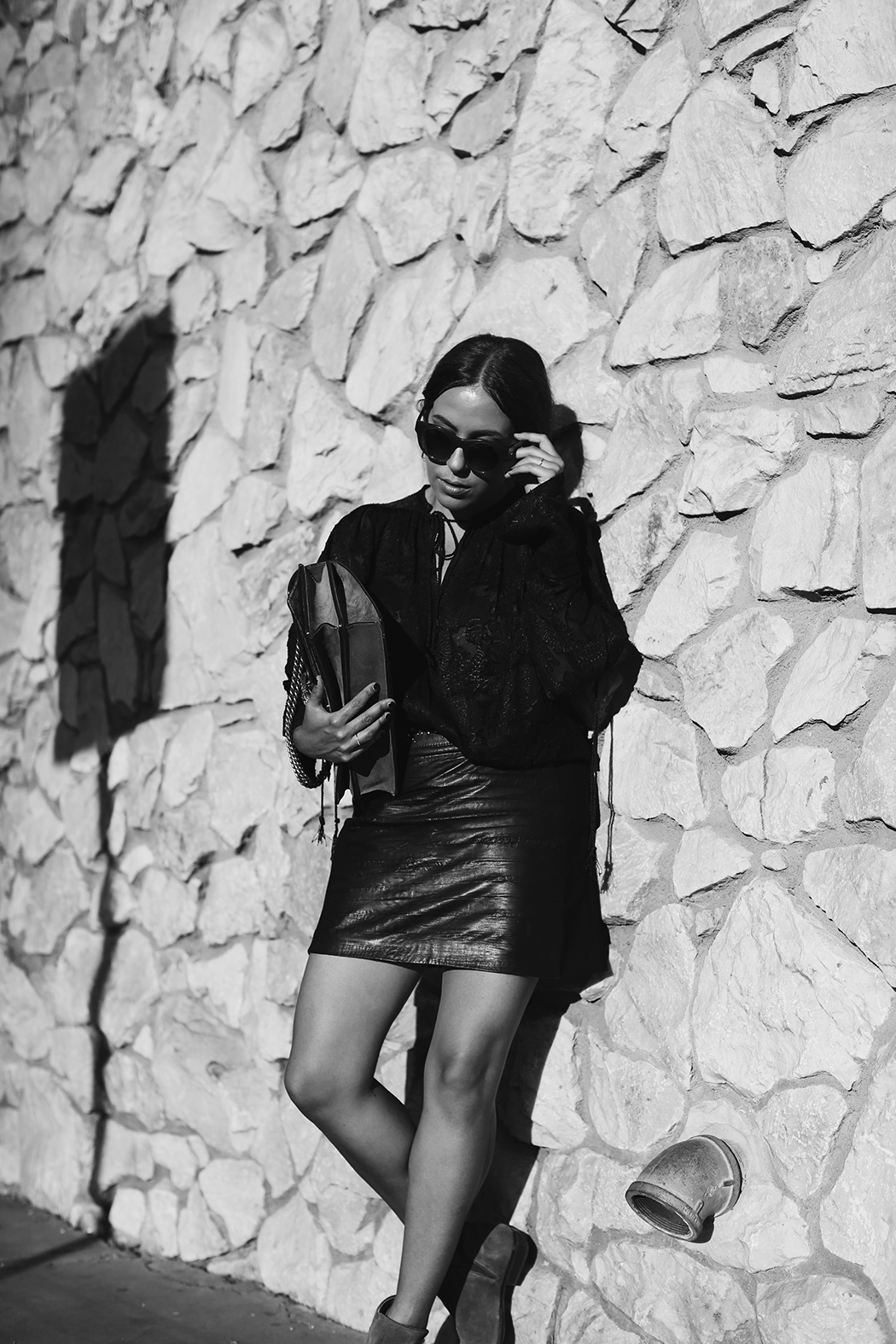 Blouse H&M STUDIO COLLECTION | Skirt c/o IKKS (old) similar LEATHER SKIRT HERE | Sunglasses c/o ELIZABETH AND JAMES | Boots MANGO (old) similar HERE | Bag GUCCI 
Urlaub in Las Vegas zu verbringen ist ja sicherlich so eine Sache. Auch wenn einige es mir nicht glauben wollen: mit der Natur drumherum sind die Möglichkeiten quasi unendlich. Naja, zumindest vielfältiger als man vielleicht denken mag. Genauso vielfältig ist auch das Shopping Angebot in der glitzernden Metropole in der Wüste: fast jedes Hotel hat einen Abschnitt mit Stores, im Speckgürtel reihen sich Outlets aneinander, europäische Luxus-Labels und amerikanische Highstreet-Ketten – in Vegas gibt es wirklich alles.
Shopping-Touren stehen bei unseren US-Reisen eher nicht auf dem Plan. Mittlerweile kaufe ich ausgewählter, auch irgendwie seltener und irgendwie fallen mir on-the-road tausend bessere Dinge ein, als shoppen zu gehen. Liegt aber vielleicht auch einfach an der Natur der Sache. Schließlich ist man ja ständig unterwegs, immer irgendwo anders. Es wird höchstens mal ein leere Mall angefahren um dem kleinen Bruder ein paar Chucks mitzubringen. Aber in Vegas kann man den Stores quasi nicht entkommen. Man schlendert nichtsahnend durch die Hotels und landet schließlich im Ceasars Palace. Und dann im größten H&M ever. Einfach so. Zwischen Träumen aus Samt und Schwarz entdeckte ich die aktuelle H&M STUDIO COLLECTION A/W – noch mehr Samt, Spitze und eine leichte Prise Urban Cowboy. Also genau mein Ding! Die schwarze Kordel-Bluse schrie meinen Namen und wurde direkt gekauft. Ein Teil, das in Kombination mit dem Rock von IKKS, Wildlederboots und GUCCI Dionysus perfekt in die Szenerie Vegas' passt.
ENG // Be prepared: Las Vegas is not only the city of gambling but also the city of a lot shopping opportunities. Even if we don't go on shopping trips during our time on the road in the US – this time I made an (accidental) exception: while visiting the Ceasars Palace Hotel on the strip we stumbled upon the biggest H&M store I've ever been to. I mean: it's huge!! I have always been a fan of H&Ms special collections and was more than happy to check out the current H&M STUDIO COLLECTION A/W in Vegas: it's a lot about velvet, lace, dark and cowboy inspired stuff – yep, totally my style! I bought the black blouse with twisted cords, which reminds me a lot of old vintage-prairie-blouses, but with a modern twist. I also wore a leather skirt from IKKS, old MANGO boots and my GUCCI Dionysus. 

[show_shopthepost_widget id="1989152″]