Nachdem ich bereits zwei Mal in Folge die Art Basel in Miami besucht habe, wurde es in diesem Jahr endlich mal Zeit für die "Original Version" – die Art Basel in Basel. Die wohl weltweit wichtigste und bekannteste Messe für moderne und zeitgenössische Kunst öffnete seine Türen vom 14. bis 17. Juni 2018. Vier Tage lang trafen Freunde der Kunst auf Galeristen, Kunstsammler auf Künstler. Zusammen mit AUDEMARS PIGUET – als offizieller Partner der Art Basel – besuchte ich an mehreren Tagen die Messe und natürlich auch die Collectors Lounge, ein Bereich der Messe, der Gästen eine angenehme und ruhige Atmosphäre im Trubel der Ausstellungen bot.
Wie auch in Miami, designte der New Yorker Künstler Sebastian Errazuriz in diesem Jahr erneut die AUDEMARS PIGUET Lounge. Das Konzept von "Foundations" nimmt das Material Eisenerz als Inspiration in den Fokus – ein Material, das ebenfalls im Prozess der Uhrenherstellung bei AUDEMARS PIGUET zum Einsatz kommt. Untermalt wurde das Design der Lounge von großformatigen Fotografien des italienischen Digital-Künstlers Quayola. Die hochauflösende Serie transportiert den Betrachter direkt in die Wälder des Vallée de Joux, einem Hochtal in der Schweiz, der Heimatregion von AUDEMARS PIGUET. Die komplette Lounge-Installation beider Künstler bot zudem die perfekte Basis für AUDEMARS PIGUET's hoch ausgebildete Uhrmacher, die den Besuchern ihr Handwerk vorführten.
Mein persönliches Highlight: Die datenbasierte Installation des britischen Kreativ-Duos Semiconductor. Ruth Jarman und Joe Gerhardt zeigten zur Art Basel ihr raumumfassendes Werk HALO: Einen zehn Meter hohen beleuchteten Zylinder, der auf seinen Wänden Raumpunkte und Bewegungen von Atomteilchen zeigt. Tatsächliche Daten, die dem LHC am CERN (die Europäische Organisation für Kernforschung) entnommen wurden um das Objekt so mit Licht und Sound zu bestücken: Die Daten geben Impulse, die Klavierhämmerchen und Saiten zum Klingen bringen. So werden komplizierte, naturwissenschaftliche Vorgänge dem Betrachter näher und greifbarer gemacht. Ein Werk, das den Dialog zwischen zeitgenössischer Kunst, Naturwissenschaft und Technologie wunderbar verknüpft.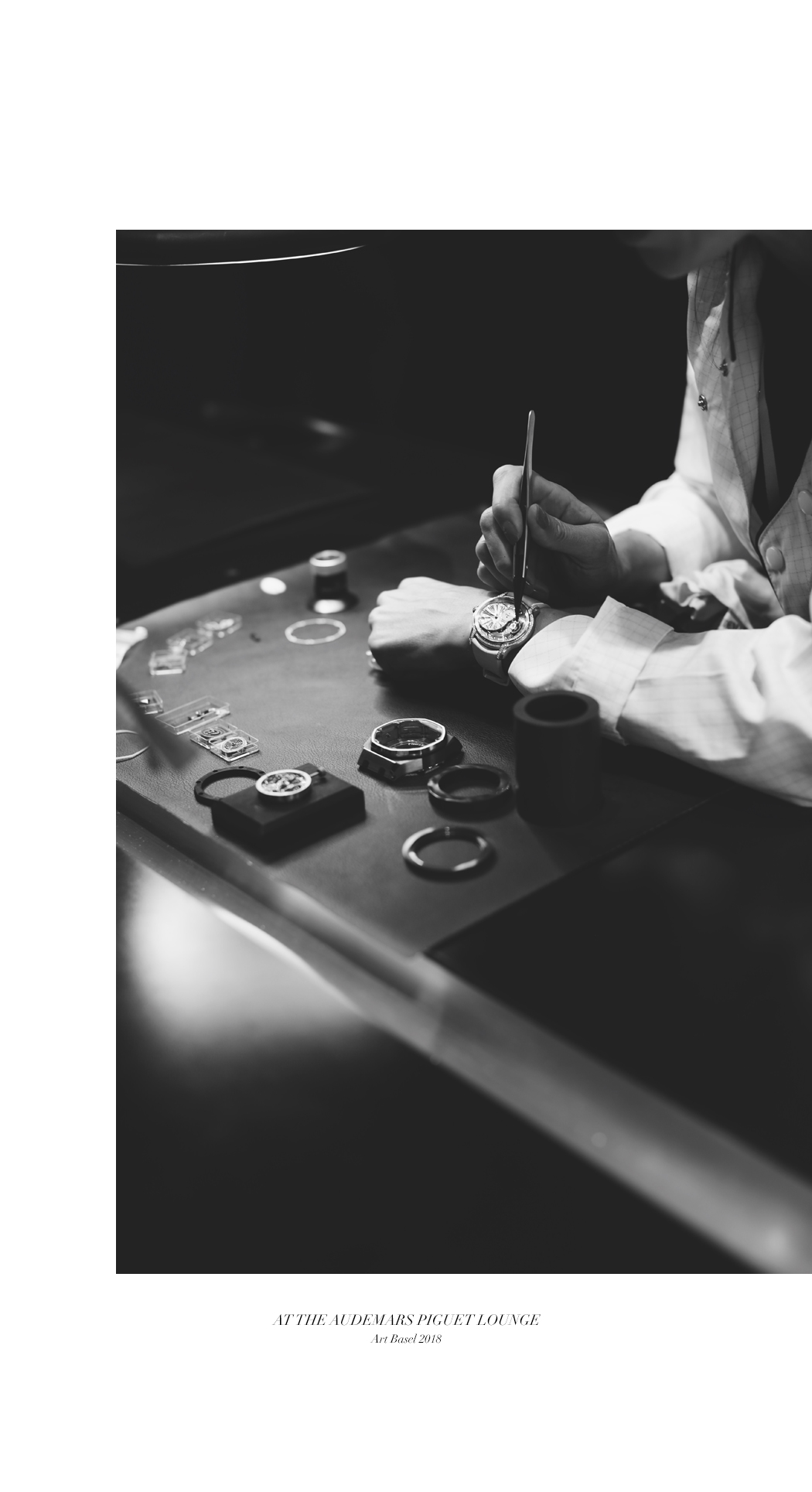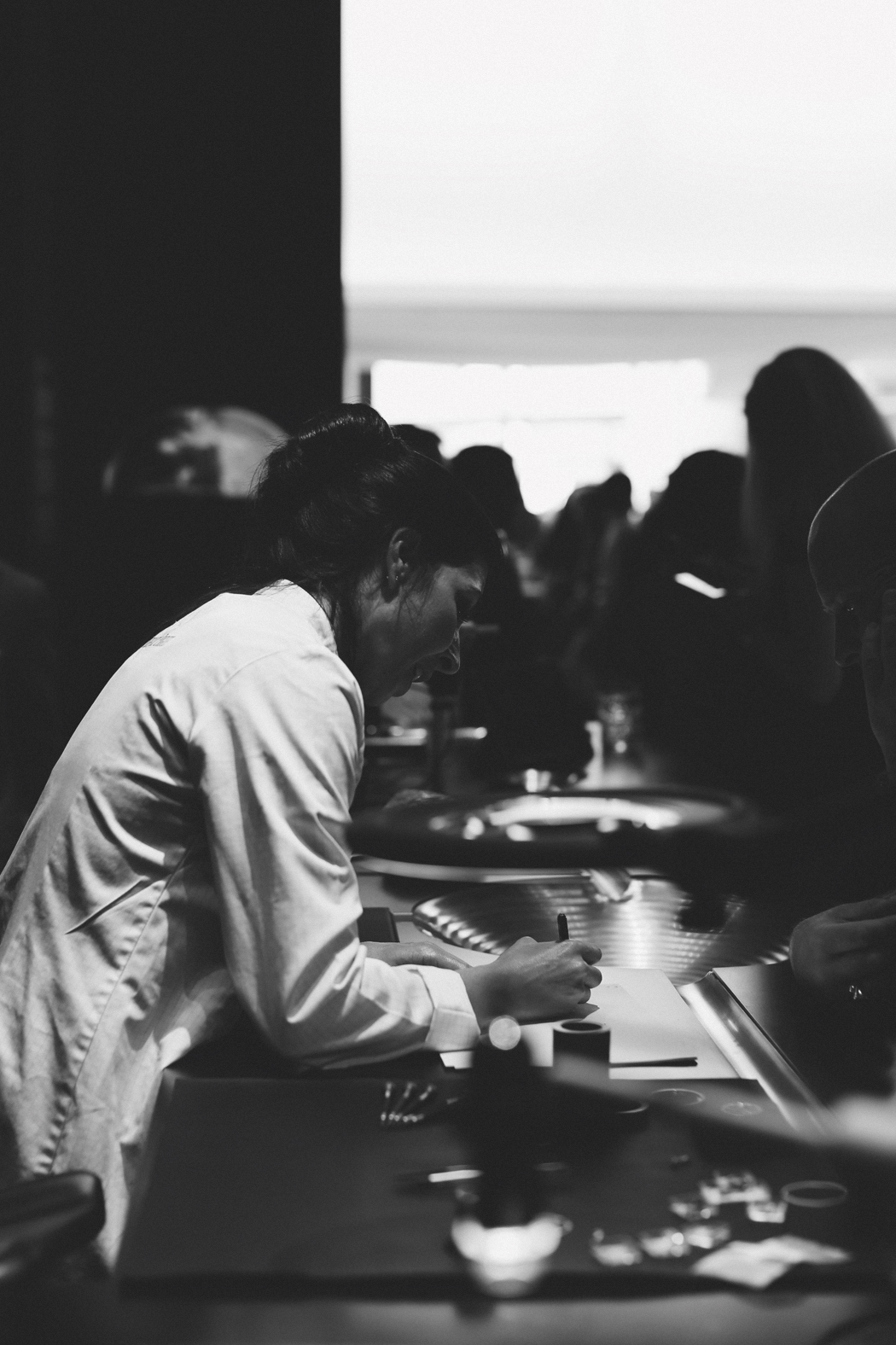 After two years of attending Art Basel in Miami, I finally made it this year to the original fair in Basel. The world's most important trade fair of modern and contemporary art took place from June 14 to 17, 2018 which connected art lovers with gallerists and collectors from every corner of the world. Together with AUDEMARS PIGUET – as a partner of Art Basel – I visited the Collectors Lounge, a place at the fair which offers guests a calm and relaxing atmosphere.
New York-based artist and designer Sebastian Errazuriz and Italian digital artist Quayola transformed the space into a perfect hideaway: Errazuriz' work "Foundations" is a lounge concept with an immersive design based on the natural resource iron ore, a material key to watchmaking at AUDEMARS PIGUET. The walls of the lounge also showed the new large-scale photographic work by Italian digital artist Quayola, a series of ultra-high definition images which transported the viewers to the landscape of the Vallée de Joux. Quayola invites the viewer to see this natural environment in alternative ways, exploring the differences between human perception and machine vision. The whole lounge installation by both artists forms the perfect backdrop for AUDEMARS PIGUET's watchmakers who are demonstrating their craft. The lounge also showed a collection of AUDEMARS PIGUET's history of watchmaking.
For AUDEMARS PIGUET's 4th Art Commission, the British creative duo Semiconductor realized the site-specific installation titled HALO. The data artwork by Ruth Jarman and Joe Gerhardt, who form Semiconductor, shows a large cylinder which is illuminated and enveloped in sound produced by data from particle-collision experiments taking place at CERN, one of the world's leading laboratories for particle physics. The artwork showed visitors with an artistic point of view the so-called Atlas experiment at CERN and will allow to better unterstand the subatomic nature. A work which reflects a dialog between contemporary art, science and technology.
– In Zusammenarbeit mit AUDEMARS PIGUET –
All thoughts and ideas are 100% my own! Thank you so much for supporting partner posts and brands that supports this website.