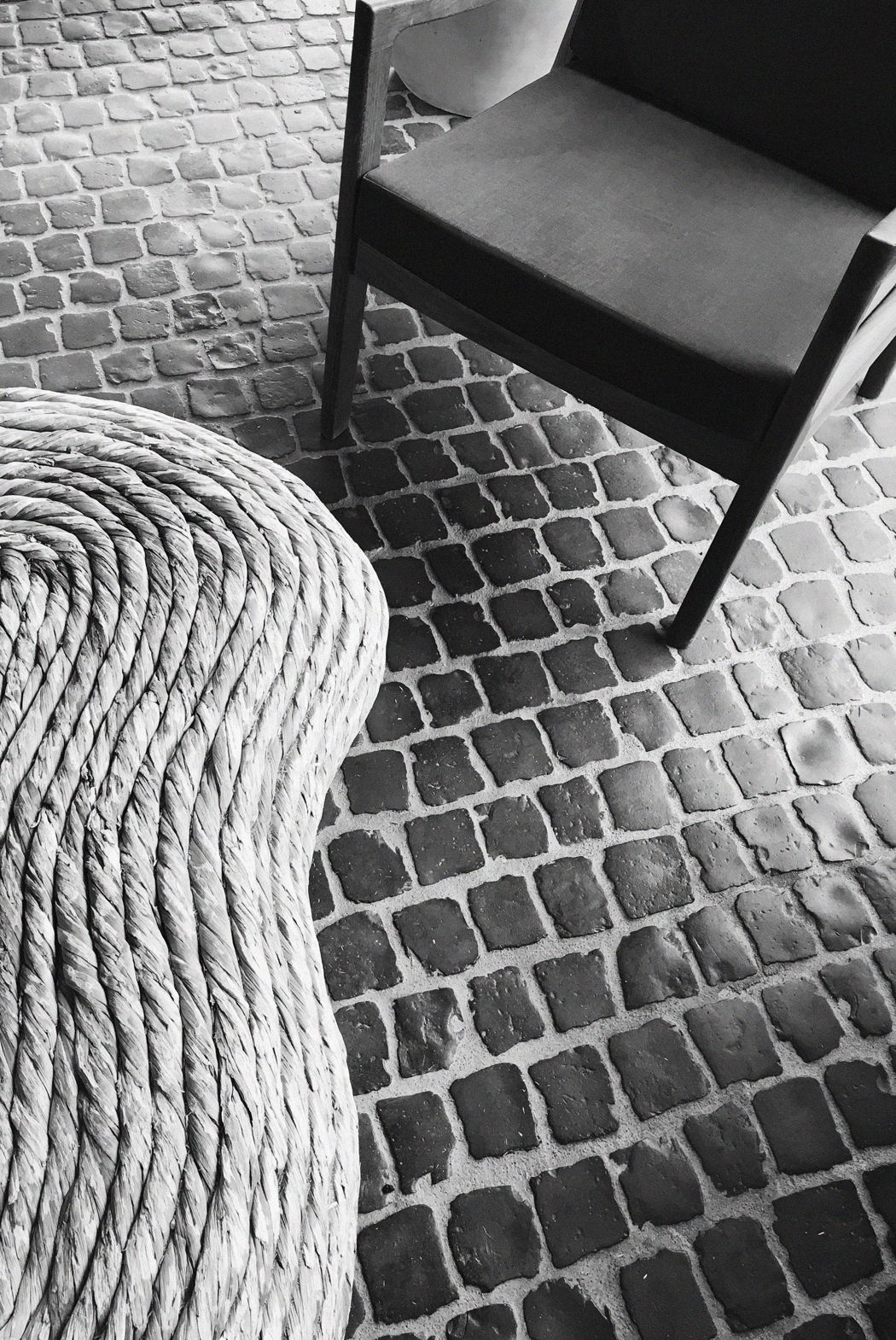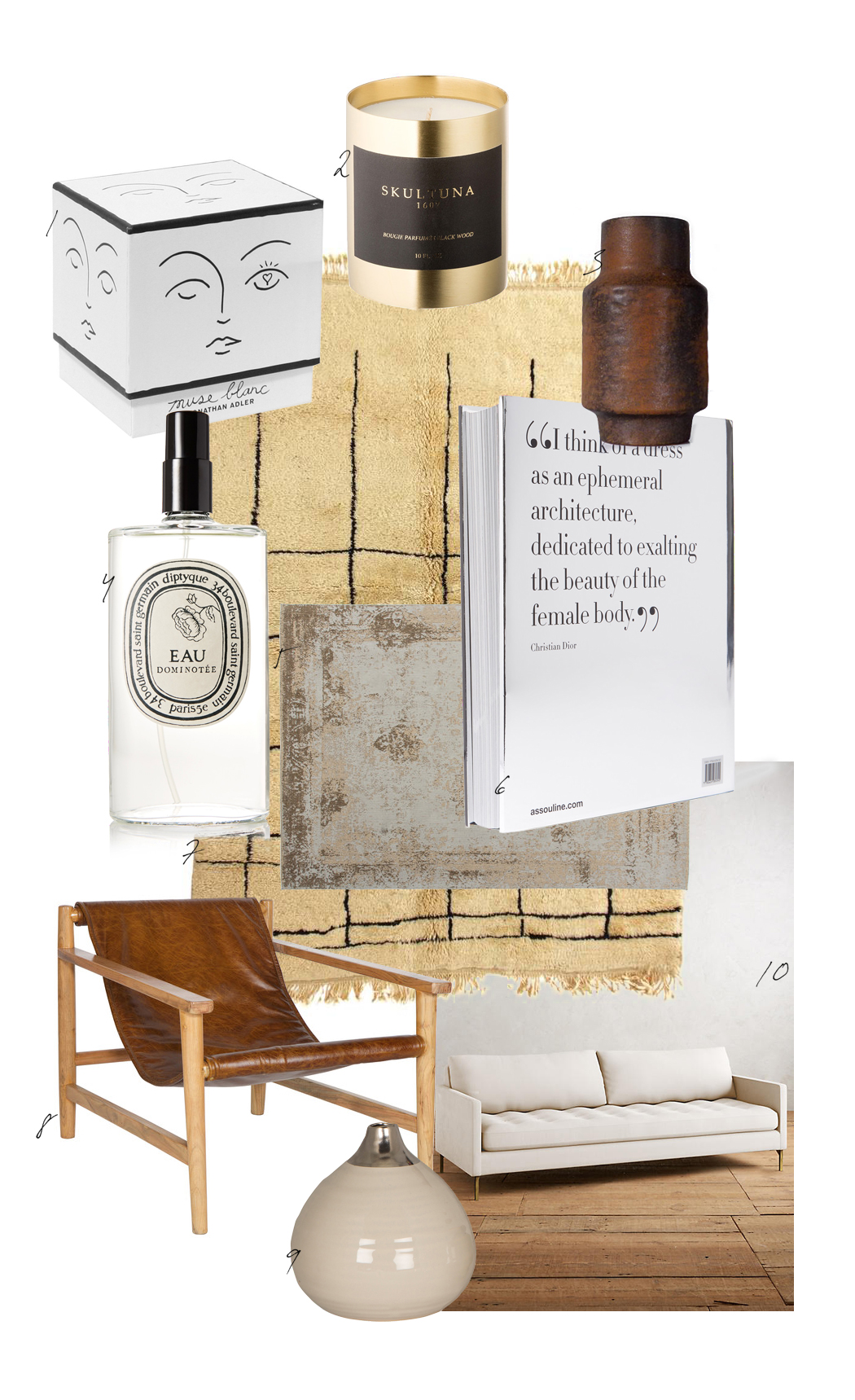 1 MUSE BLANC CANDLE IN FACE VASE | 2 BOUGIE PARFUMÉE BLACKWOOD CANDLE | 3 MID CENTURY MODERN CERAMIC VASE | 4 EAU DOMINOTÉE MULTI USE FRAGRANCE ROSE & PATCHOULI | 5 HAND WOVEN VINTAGE INSPIRED RUG | 6 DIOR BY FARID CHENOUNE HARDCOVER BOOK | 7 ORIGINAL MOROCCAN BENI OURAIN RUG | 8 BROWN LEATHER LOUNGE CHAIR | 9 NUDE CERAMIC VASE | 10 BELGIAN LINEN SOFA 
The Big Project! Wir richten unser Wohnzimmer ein – was schon steht konntet ihr bereits hier teilweise sehen. Ansonsten ist es hier noch ziemlich leer und noch nicht so richtig wohnlich. Der Stil soll einfach sein, aber mit besonderen Stücken. Ein Mix aus neu und antik. Nicht kitschig, ein bisschen Vintage, ein bisschen Holz, etwas Messing und eher erdige und gedeckte Töne. Um unserem Traum-Living-Bereich etwas näher zu kommen, fehlt es natürlich noch immer an einem Sofa. Ich bin zwar noch immer auf dem Samt-Trip, aber ganz so überstürzt möchte ich dann doch kein Sofa kaufen – schließlich wird das Möbelstück das Herz unseres Wohnzimmers.
Aktuelle Inspirationen kommen von JONATHAN ADLER (ich liebe das Design des Porzellangefäßes), SKULTUNA 1607 (einfach weil Kerzen und der Duft von Schwarzholz immer gehen), FRITZ VAN DAALEN (Midcentury-Love!), DIPTYQUE (das Eau Dominotée mit Rosen- und Patchouliduft riecht frisch und lässt sich auch als Raumspray nutzen), KAYOOM & von ARTEMIS DESIGN CO. (denn was ist ein Raum ohne Teppich?), ASSOULINE (Ich bin ein Coffee-Table-Book Junkie), WESTWING (der Sessel aus Rindsleder würde perfekt zu unserem Esstisch passen), BROSTE COPENHAGEN und von ANTHROPOLOGIE (bei dem Sofa würde ich meinen Samt-Spleen eventuell noch mal überdenken). Mehr Living Room Inspiration gibt es auch bei PINTEREST.
ENG // The big project! We're furnishing our living room – you had already the chance to get a peek into our new living room here. The dining area ist already done, but we still need a few pieces to make the room look a lot more cozier. The style should be simple, but not toooo minimalistic. I'm thinking of mix of new and old. With no cheesy elements, but a soft and modern vintage touch, a bit wood, some brass accents and warm & earthy tones. My current inspiration: this white candle with face shape, the SKULTUNA 1607 brass candle, this mid-century treasure, DIPTYQUES room spray, vintage inspired rugs, coffee-table books, this leather chair and the nude ANTHROPOLOGIE sofa.