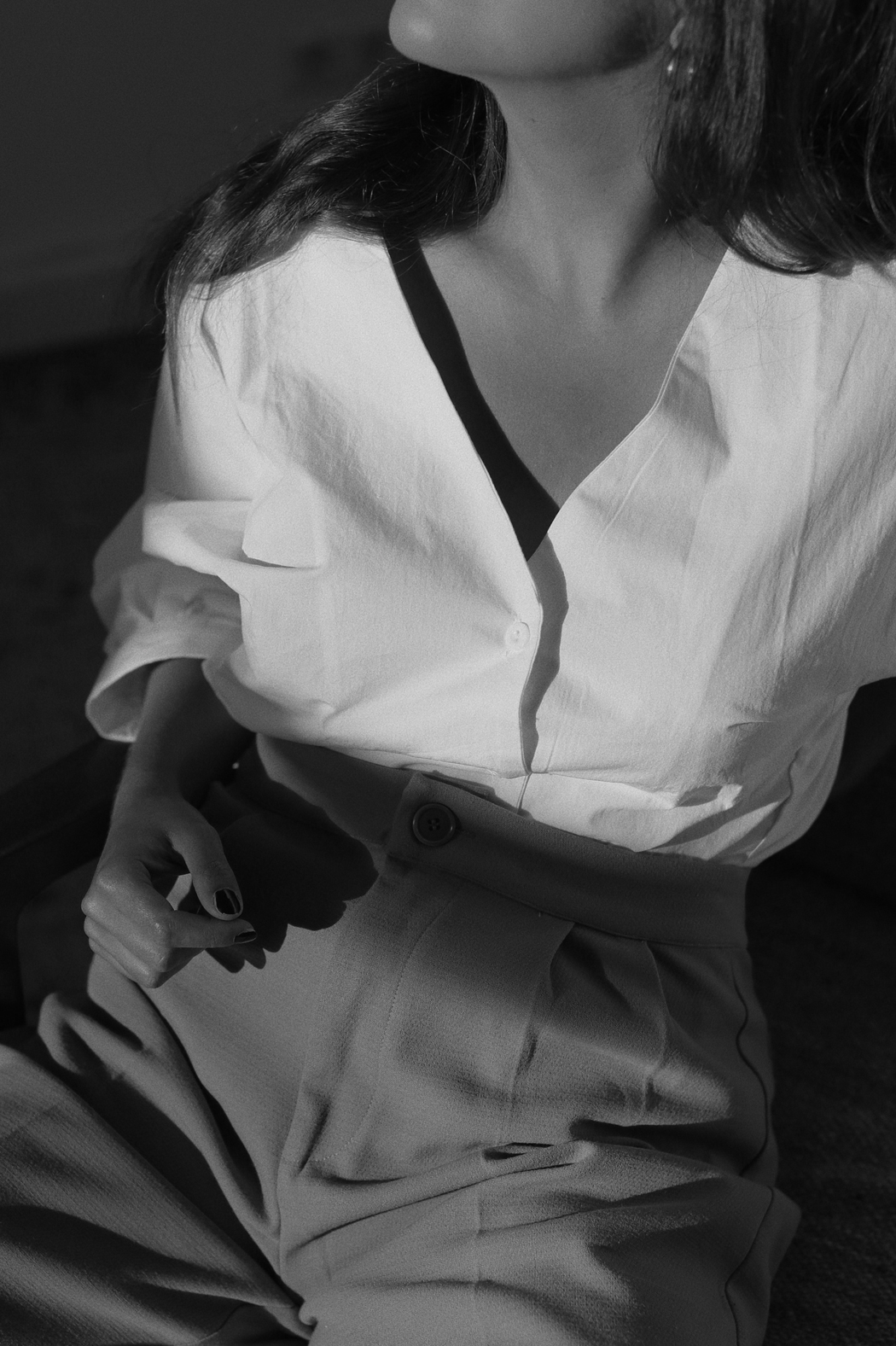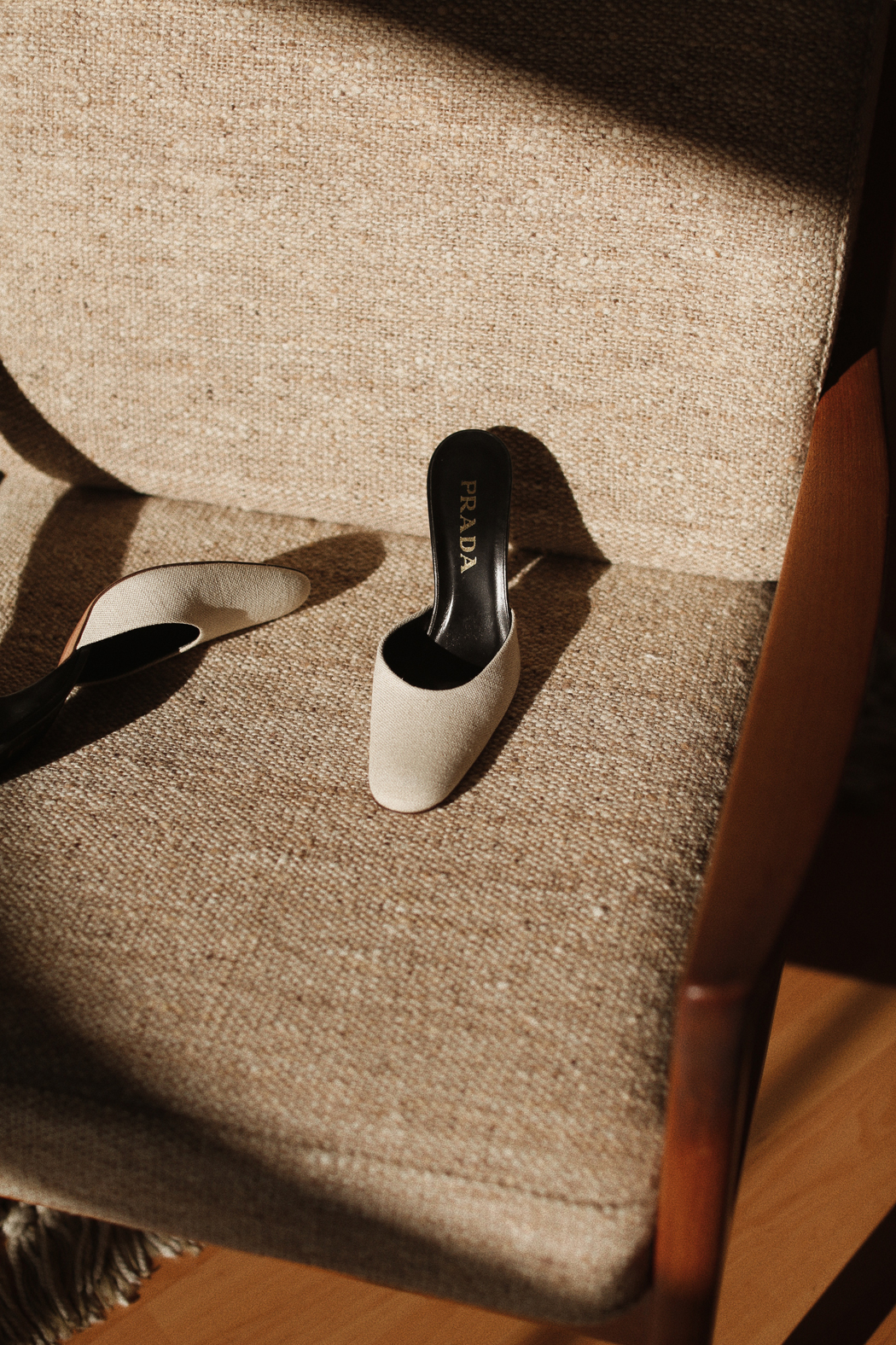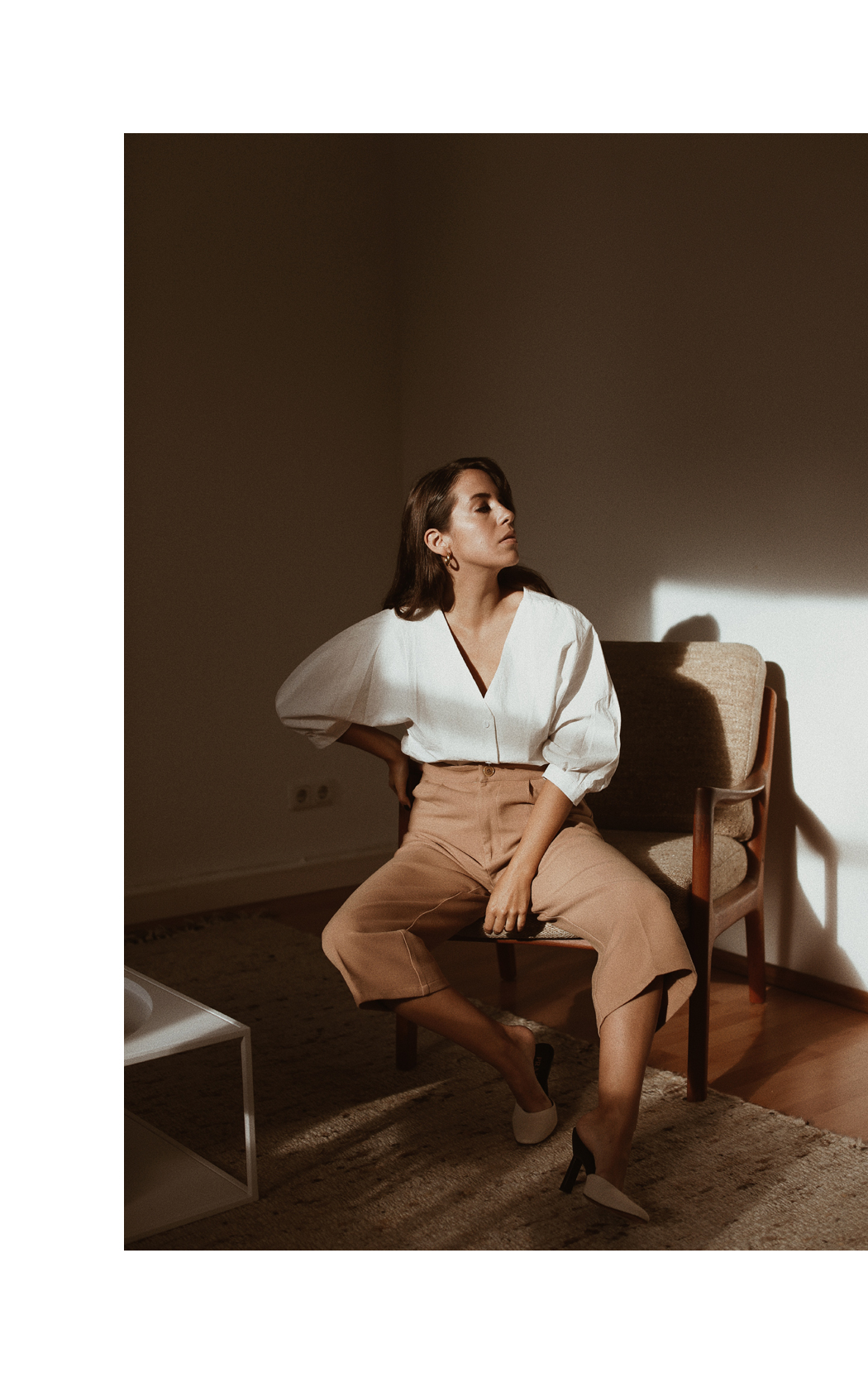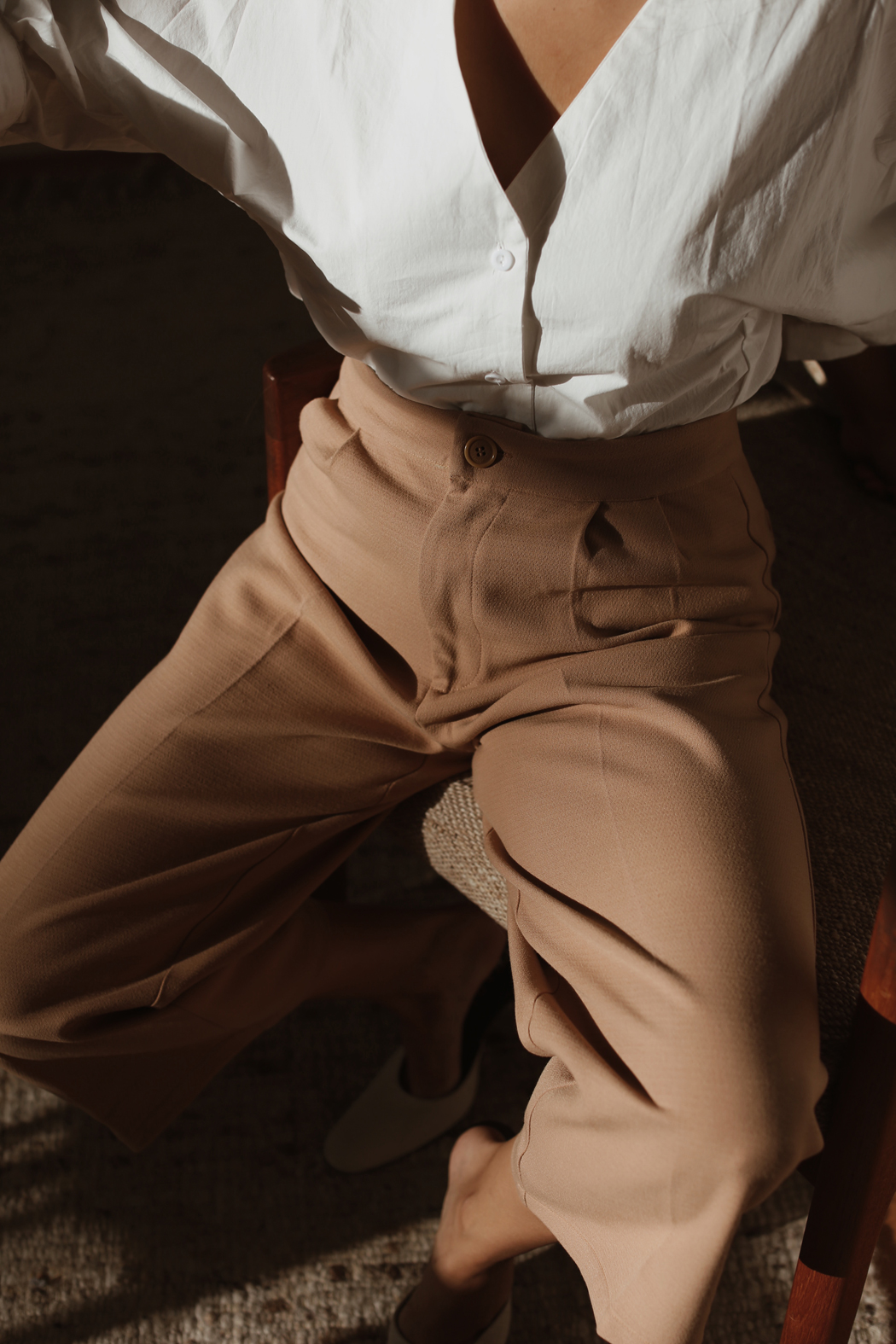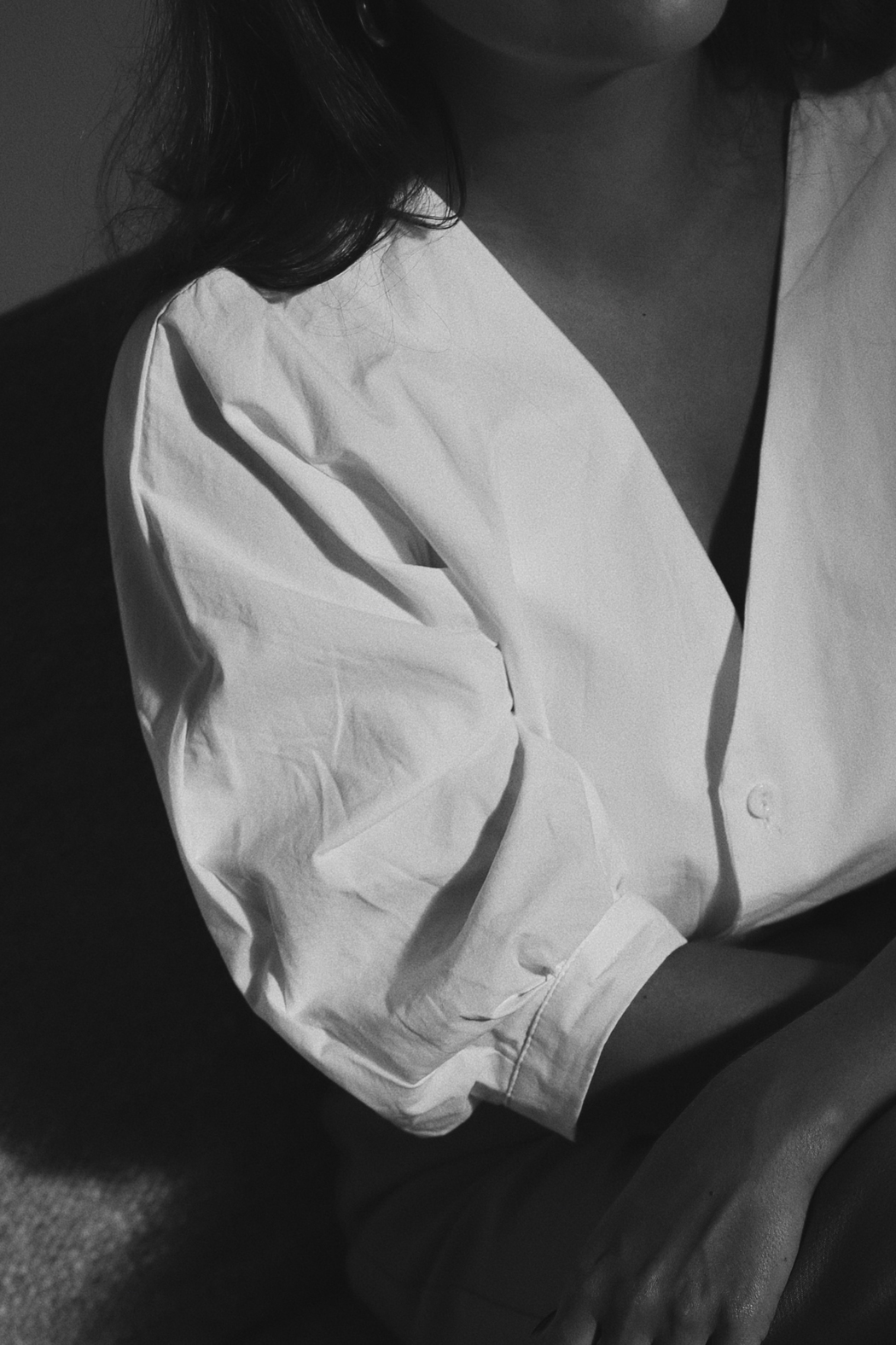 Pants c/o PETITE STUDIO NEW YORK | Blouse c/o PETITE STUDIO NEW YORK | Shoes PRADA | Earrings c/o JANE KOENIG
All New, All Old – meine Liebe zu Vintage und Design-Klassikern scheint sich durch mein ganzes Leben zu ziehen. Und in diesem Beitrag finden sich gleich zwei davon. Mein neuster Fund sind die zwei Senator Chairs von Ole Wanscher, die ich kurz vor meiner Reise nach New York im September kaufte. Durch einen glücklichen Zufall gab es hier bei mir in der Nähe eine Wohnungsauflösung – inkl. den beiden Prachtstücken. Auch wenn die Zeit knapp war und ich eigentlich meinen Koffer packen musste, konnte ich nicht widerstehen und musste sie einfach kaufen. Sie sind in einem fast neuen Zustand, mit Salt'n'Pepper Bezügen und ohne einen einzigen Kratzer im Holz. Ein passender Tisch wurde ebenfalls angeboten, aber da musste ich leider passen, da wir mit unserem Couchtisch eigentlich sehr zufrieden sind. Wer auf der Suche nach ähnlichen Teilen ist: hier hier gibt es eine recht gute Auswahl an Original-Ole Wanscher Designs. Mein zweiter Vintage-Fund aus der letzten Zeit sind die PRADA Mules, die ich über VESTIAIRE COLLECTIVE gekauft habe. Zur richtigen Zeit am richtigen Ort. Obwohl… Die Schuhe waren bereits seit Anfang Mai online und keiner wollte sie haben. Zu uncool? Jedenfalls nicht für mich. Zum Look: ich trage eine weiße Bluse von PETITE STUDIO NEW YORK (die Hose ebenso) und Ohrringe von JANE KOENIG. 
ENG // All new, all old – hands down, I love vintage and design classics! Some months ago I finally got my hands on two Original Ole Wanscher senator chairs. I found this set on a sale in my city and knew I had to have them. They are almost like brand new – no scratches, the perfect salt'n'pepper fabric and made out of the finest teakwood: and now they are mine! Another great catch were the 90s PRADA mules I bought at VESTIAIRE COLLECTIVE. It seems like nobody was interested in buying them, but yes, good for me. I also wore a white blouse by PETITE STUDIO NEW YORK (the pants are the same brand) and JANE KOENIG earrings.